Regular price
Sale price
$26.00 CAD
Unit price
per
Sale
Sold out
ENRICHMENT: The Mandala eTray promotes slower eating and improves digestions. Perfect for all size dogs including puppies. 
BENEFITS
The Mandala is perfect for serving a variety of proteins together without making a mess. You can combine foods together or separate them in the individual chambers of the design. The depth of the Mandala is ideal for serving raw meals. The Mandala can be used for snacks or for meals.  
The Mandala design features different heights and depths imitating more natural eating conditions and putting your dogs natural foraging instincts to the test.
Ideal for flat nosed dogs like bully breeds that may struggle with deeper slow feeder bowls. The Mandala design is a shallow slow feeder devise so it achieves slower eating without becoming impossible for some breeds to use.
Slower eating has the following benefits: calming and soothing for your dog, may help prevent bloat, improve digestion, better gut health, small meals last longer. In addition, use of the Mandala eTray may help keep your dog entertained, reduce separation anxiety, reduce boredom and unwanted behaviors associated with boredom.
Share
View full details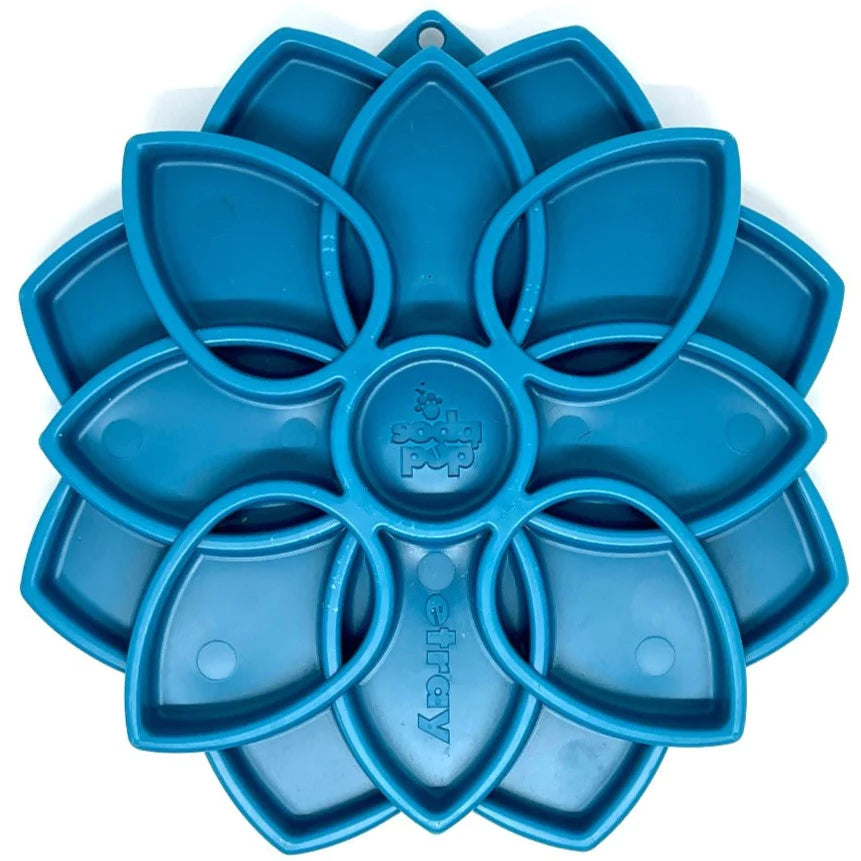 Testimonials
My dogs all love raw food. The oldest was 12 when I switched them over and she has never been healthier. Our dogs all have their own favorite feast, and there is a great selection at Heronview, so there is always something new for them to try. Thanks so much to Lori and all the staff at Heronview.
Raw is by far the BEST decision we've made for our dogs and we will go to Heronview for life! They have an incredible selection of proteins, a great range of supplements and their prices are fantastic! I highly recommend you give Lori a visit!
Not sure about where to get started? Stop in and have a conversation, Lori has a starter plan suited to your furry family member. Not feeding raw? The store will still have something for you, from natural pet care products to on-site dehydrated treats your dogs will love.
My Havanese rescue, Sammy, was almost 7 when I adopted him. I noticed that every time he stretched he would creak and crack and I could hear all his joints popping, but I figured that was just how he was and I didn't really think too much more of it at the time as it didn't seem to bother him. I had been researching raw for a bit (not because of his creakiness, but just because I had heard about it and thought it might be the wise way to go). Anyway, I decided to put him on a raw, species-appropriate diet from Heronview, including Feedsentials and Shemp as advised by Lori. About two to three weeks after the switch I incidentally noticed that when Sammy stretched he didn't make any nasty noises, so I made a point of paying attention the next few times, and guess what? His joints completely stopped making any noises at all, even first thing in the morning with lots of big stretches. Clearly, something was amiss or inappropriate in his diet and the switch to raw had rectified the situation. I was pleasantly surprised and haven't looked back since.
When we discovered Heronview, we realized that raw feeding does not have to be pricy. We love the fact that you can buy a variety of meats packed in small amounts. One day Ellie will have ground chicken with bone, offal and tripe, the next she will get game, a bit of tongue, half a chicken carcass, some offal and tripe, then the day after it will be time for beef. We have also been giving her the K9 Feed-sentials. I wish I lived closer to Heronview and could visit the store more often. The staff is very knowledgable, they all have raw fed dogs and cats of their own and are more than happy to take time with every client. Being a city person, coming out to Heronview and seeing all of Lori's animals, makes each visit a treat.
❮
❯